Exhaust scrubbers filter out all harmful toxins from exhaust gasses of marine diesel engines. These hazardous pollutants can severely corrode the pipes of the scrubber. Using the experience we have accumulated over the years allows us to assist you at moment's notice if this happens.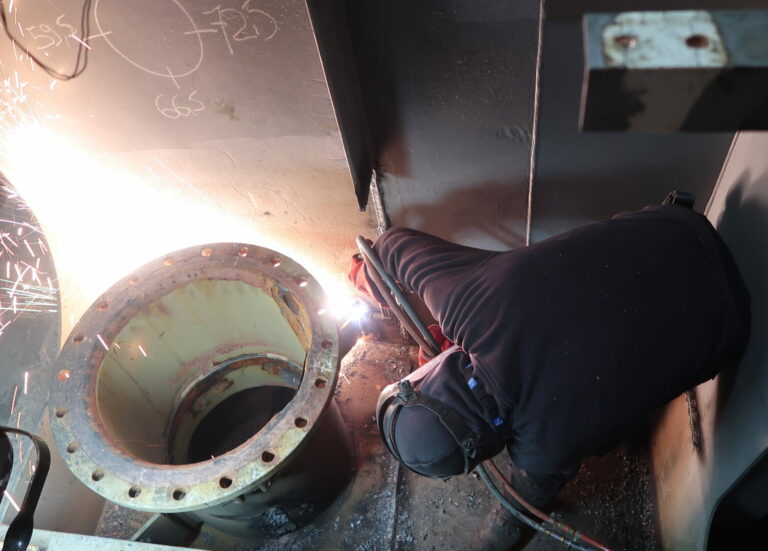 Scrubber overboard pipe renewal
We offer a full package to owners that are experiencing similar damage. Not only can we replace the corroded exhaust pipe while your vessel stays on schedule, but we can make sure that you will not have to call us again in a few months time for the same problem.
The case study below is a good example of this.
 
Two shuttle tankers were berthed in Rotterdam and Skagen respectively and experienced water ingress as a result of corroded scrubber outlet pipes. In particular the stub pieces in the hull were affected and needed to be replaced. The two vessels were on standby to transport oil from offshore oil fields whenever required. Going to drydock was therefore not an option and we were contacted to offer a fast afloat solution.
We proposed a start-to-finish operation. This meant that we would take care of the planning of the repair as well as the adjustment of the new pipe and its installation. As a result the owner was released of all the hassle surrounding the repair. He knew that we would take care of everything within the available time frame and this to our renowned high quality standards
 
To prevent the new pipe from corroding again in the future, the inside was coated with Ecospeed. This product is produced by Hydrex sister company Subsea Industries (www.subind.net). Ecospeed is highly chemically resistant. Taking into account the nature of the process taking place inside a scrubber, this is essential for a lasting protection of the pipe. Ecospeed can also be used to protect a newly installed scrubber system from day one.
Contact us for more information on scrubber pipe replacements or other underwater repairs. We are at your disposal 24/7.
We replaced two corroded scrubber overboard pipes on a large container ship without interrupting or delaying the ship's itinerary. An
Read more