We have developed a flexible mobdock repair method that enables the underwater replacement of shaft seals. This technology can be used on all types and sizes of shaft seals. It has been successfully used by our teams for numerous operations around the world. It allows ship owners to keep their vessel sailing, saving precious time and money.
Worldwide underwater shaft seal repairs
Damaged stern tube seals will cause an increasing amount of oil leaking or water ingress as the damage worsens. By replacing the seals when the damage is first discovered, we keep the down time low. As a result the ship can keep its schedule as seal repairs can be performed during cargo operations. We do this by creating a dry underwater working environment around the shaft.
It is not always straightforward to replace seals, because there can be quite a bit of variation in the configurations of the stern tube itself. There can also be complications with the liners, which can be worn down and show ruts. However, all this is routinely handled by our teams on the jobs.
All shaft seal repairs we offer are performed in cooperation with the OEM. We usually supply the equipment but the owner is free to supply his own OEM seals. We can handle all type of seals from all manufacturers.
Contact us for more information on the underwater replacement of shaft seals. We are at your disposal 24/7.
By creating a dry underwater working environment around a seal assembly, repair work on the assembly is facilitated. It enables the replacement of damaged seals on site. 
Hydrex diver/welder during reinstallation of the rope guard after an underwater stern tube seal repair.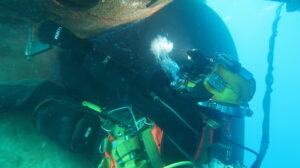 Recently one of our diver/technician teams carried out a double underwater stern tube seal repair on a roro ship berthed
Read more